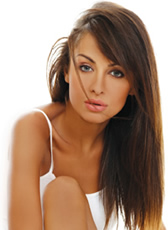 Tanning is natural, and it works the same whether you tan outdoors or in a salon. The advantage of using sunbeds is having complete operator control over the intensity and duration of a session, which results in minimal risk of an uneven tan or a sunburn.
CONTROLLED UV:
When it comes to UV light, both summer sunlight and most sunbeds produce pretty much the same kind and mix of sunlight: about 95% UVA, and 5% UVB. The difference is that most sunbeds are 2-4 times more intense than summer sunlight. That's the reason you only stay in a sunbed a few minutes.
CUSTOMIZED PROGRAM:
Everyone's skin is different. That's why we conduct a complete evaluation, using the Smart Tan Skin Type System™ to determine your skin type and set your exposure schedule accordingly. Our system is designed to get you the best possible tan while minimizing the risk of sunburn.